Kidds Hangin Black
Cinder
(Bear X Mini)
Kidd's Australian Shepherds
Meet The Girls
Click dogs picture to link to their own page with more photos, video, and pedigree of that dog.

Minnie came to us as a pup from Lyle and Carol Gerkin of K-J Aussies. She is a strong working dog. She earned Started and Open titles in cattle and sheep on one weekend. She just does not think that ducks are stock and has no interest in working them. She is a quite pleasant dog to work and be around.



Minnie left this world in 2020. Gone but not forgotten.​

​
Cinder is a daughter of Minnie and the last litter out of Bear before his death. I am so glad that I decided to keep this pup. She is as close as you can get to the old Slash V breeding that produced Possum for Terry Martin and Roger Stevens dog Aggie. Her grand dad Red, was a full brother to these two great dogs. She not only has this breeding, but Hangin Tree Working Blue in her pedigree. She is a strong working dog and I wish had more time to trial her. Pups from her and Blue are turning out to be very strong cattle dogs.

Cinder passed away in 2019​​

Porsche came to us from Chris Caldwell of 3C's Aussies as a pup. She is the most driven dog that I own. She lives to work stock. She is great on cattle but is rough on sheep and goats. She has a lot of bite and wants to use it. She is still young and is getting better, and one day you will be seeing her in the trial arena. I can't wait to see the pups she produces. I just can't decide which male to breed her to.



Porsche passed away in 2020. She is badly missed.​​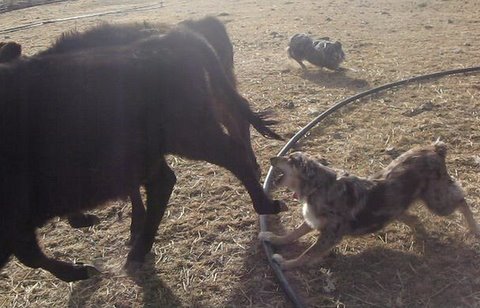 Porsche and Sioux working calves
.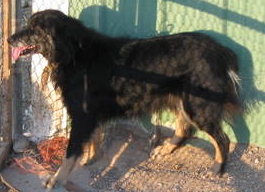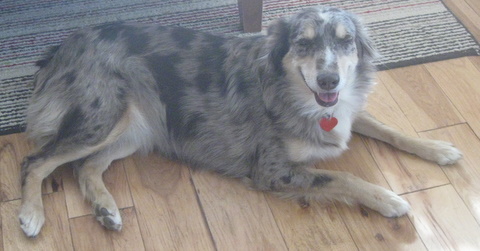 Rosie is a Sioux and Porsche daughter. She is a strong working dog. She is producing some great pup. Terry Martin of the Slash V kennels has one of her pups.